Tourtiere – Low-FODMAP and Gluten free
You might be thinking "How could a savoury meat pie be healthy?" Well, I'm here to tell you that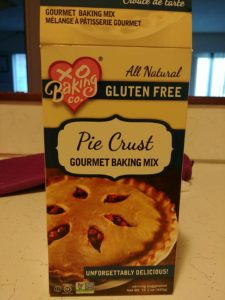 you can mitigate the damage rather nicely, and not sacrifice flavour. My mother, who was raised French-Canadian really enjoyed it and felt it was authentic, but it's also YUMMY, low-FODMAP, and gluten free! Technically, wheat is on the bad list for people sensitive to FODMAPs, so I made the pie with a gluten free crust. I personally don't have any problems with wheat or gluten, as long as the bread/pasta/etc is made fresh. I am however, quite sensitive to the "A and P" in the FODMAP equation. Which means most store-bought ready-made crusts are out, for me. Since I would have to be making the crust from scratch, I figured I might as well buy the gluten free crust mix, and go for it!
I put my recipe through My Fitness Pal to provide the nutrient breakdown of the final product, as well as Nutrition Data to provide the estimated glycemic load of a serving (posted at bottom of page). Keep in mind as well, when considering glycemic load of a meal, there are other things you can eat to lower the overall glycemic effect. I served the pie with a side of blanched broccoli and carrots. You might think that the glycemic load is only relevant to people living with diabetes however, one should consider that eating a diet with a high glycemic load can potentially lead to the onset of diabetes (type 2) and metabolic syndrome. Potentially meaning that people's individual physiology, metabolism, hormones, and other lifestyle factors are all contributors. No one can say for certain what factors lead to diagnosis, only which factors increase or decrease risk.
I adopted the recipe from Genius Kitchen, and included my changes below – makes 6 servings:
Ingredients:
1⁄3

lb ground beef

1⁄3

lb ground pork

1⁄3 lb ground lamb

2 sprigs green onion (green parts only)

1 leek (green parts only)

1

small potato, grated

1⁄2 teaspoon salt
1⁄2

 teaspoon celery salt

1⁄2

 teaspoon clove

1⁄4

 teaspoon cinnamon

1⁄4

 teaspoon nutmeg

1⁄2

cup water

1

pastry for double-crust pie (followed the instructions on the XO Baking Crust box)

Directions:
Prepare pie crust according to instructions on box. Press into a pie plate. I used a ceramic one. I wasn't totally certain if I needed to cook the pie crust first. I decided against it. I actually put the crust into the freezer for about 30 minutes while I made the filling.
Place all the ingredients (except for pie shell) in a sauce pan and bring to boil and cook uncovered for 20 minutes over medium heat. I cooked the green onion and leeks in 1 tbsp butter, first, for about 2 minutes.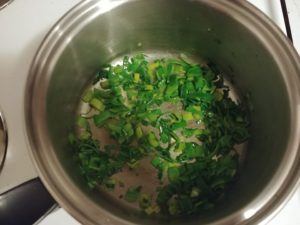 Just to soften and mellow out the onions and leeks a bit, before adding the rest. Note: I actually realized after I made it that I didn't need to cook it for 20 minutes. It had been boiling a while and though it made a very yummy pie fresh, the meat was a bit dry upon reheating.
Cover with the top crust, cut steam vents and bake in a 400F oven until golden, about 45 minutes.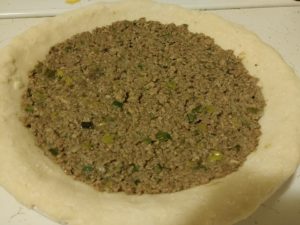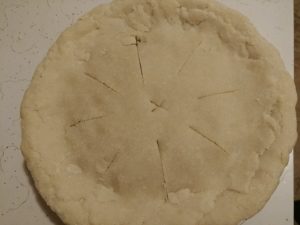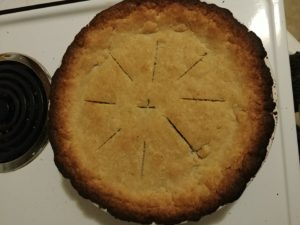 The crust burned on the edge, which made me a little sad, but this did not affect the taste of the pie. I even put the pie on a higher rack inside my oven, about 25 minutes in.
Would I make this pie again? Absolutely! I would use a regular pie crust, though. I found this crust to be little too sweet-tasting for my liking. It didn't detract from the flavour of the pie, it just wasn't to my personal taste preferences.
I also took pictures of what "2 sprigs" of green onion looks like. As well as how much you get from chopping the greens of 1 leek!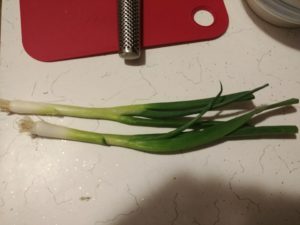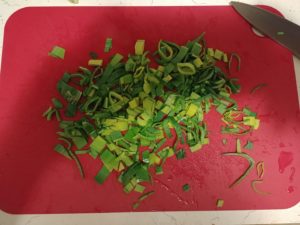 The nutrition label from My Fitness Pal and the glycemic load information from Nutrition Data: