Spartan Sprint & Super Weekend in Vancouver – June 2017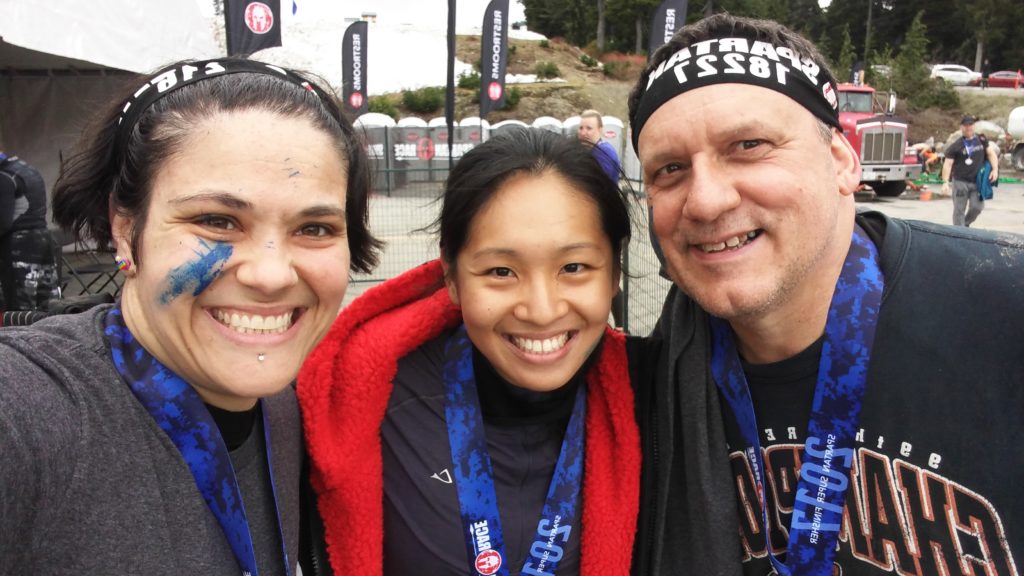 Once upon a time in June, I declared that my club mates from Vancity OCR were crazy if they did BOTH races back-to-back on a weekend. And yet, how quickly I became one of these crazy people! It wasn't something I had planned to do, it just sort of happened…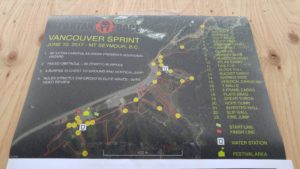 So here I was, about to do my first Spartan Sprint in Vancouver. I had only done 2 Spartan Sprint races before, both of which were in Seattle, one in October 2016, and one in April 2017. The terrain was quite different – the Seattle race was on an equestrian show grounds, whereas the Vancouver race was on the side of a mountain. The Seattle race had a little hill and LOTS of mud. The Vancouver race was a mountain, and thanks to the unusual amount of snow this winter, most of the mountain was still covered in snow for our race. Despite the Vancouver race terrain being challenging, I found it easier to move through the snow than the mud.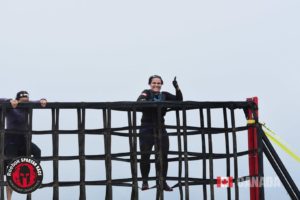 It was fun knowing that a whole boatload of people from my training club were going to be running in this event. I ran into people that I had only been communicating with online for months now, and that was super neat! Only re-affirms that everyone I meet in obstacle course racing is awesome! I did the Sprint largely on my own. I ran into some of my club mates from training at some of the obstacles, and though I did get some help with the 7-foot wall, I did most of the obstacles on my own.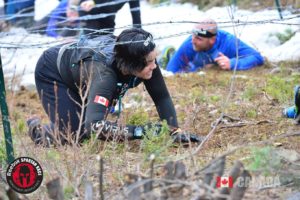 The race definitely had its challenging moments, like that mountain climb at the beginning. But it had some fun moments that would not have been possible without the snow, like sliding on my ass down the mountain, in these little butt grooves that many people before me had left behind. Have to say hands down, my favourite part about the race was the Bucket Carry. Normally, this bucket is a big plastic pail that you have to fill with tiny little pebbles. You carry the bucket up a hill, then down a hill, and dump out the bucket of rocks. On this day however, you filled the bucket with snow. That cold thing that was making your toes numb also happened to weigh nearly nothing, and so I could even carry this bucket one-handed! Despite the winter conditions on the ground, it was never cold during the race, the ambient temperature was perfect.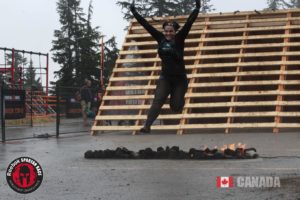 The events which happened after the race however, is when the tide turned. I usually meet the finish line with relief. This time, I met it with excitement and disappointment. Excitement that I completed my first Spartan on home soil! It went better than I anticipated! Disappointment that the race was over and that I was surprised that it didn't feel like a challenge, despite all the obstacles I failed and the burpees I had to complete. It was over too soon. The race was not even 5K! The Sprint is usually a 5-8km race. Knowing that the conditions this year were limiting how the course could be planned, I speculated that the Super normally being a 12-15km race would be closer to 10K the next day. I gave into the peer pressure of my club mates who were racing in the Super the next day. Mostly because somehow in my brain, 10K was something I was ready for, and "12-15km" sounded outside of my realm of possibility. This was my chance to try the Super. A race that up until that very moment, I had considered unlikely to complete this year.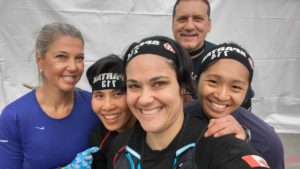 I managed to find a couple of my club mates who were willing to do the race with me, and here I was talking to the volunteer coordinator, asking her if I could race and volunteer the same day (I had previously signed up to volunteer on the day of the Super, not race & volunteer the same day). "Of course," she responded. "But then you have to race in the elite heat, first thing in the morning!" I quivered. "As long as I don't get penalized for having my teammates help me through obstacles!" I responded. "You'll be fine, just don't wear the wrist band." The elite racers get these neat terry-cloth sports bands to wear on their wrist. It's how the volunteers at obstacles can check to see if people are cheating, or if they need to be held to strict race standards.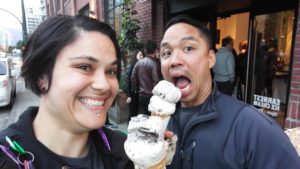 Saturday night, met up with a new friend. On Friday, this new friend messaged me after seeing my post in the Spartan Volunteers Facebook group, where I was seeking a ride on Sunday morning to do my volunteer shift. He drove all the way up from California to race and volunteer at both races, inching him closer to getting FIVE trifectas!! He would be my ride for free, if I would let him use my shower Saturday night. If he seemed legit, I would offer him the option to crash on my couch. I also felt like the love would be returned if I were to go to California for a race. We hit it off like reunited best friends! Once again confirming that everyone I meet in obstacle course racing is awesome! He was also one of many bugs in my ear to convince me to race the Super the next day. We had lots of yummy food, and got ourselves back to the mountain for 6am Sunday morning. New friend and I did some volunteer work before we got to the start line for our race.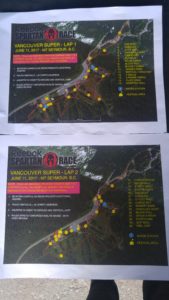 Here I was now, with 2 of my club mates by my side, lined up with me at the start line for the Super. Excited and terrified and off we went! I was correct, this race would be closer to 10K. We had to run 2 laps, but the laps were not identical. Some obstacles got repeated, but the second lap was way harder. Way more elevation gain!! I never thought that mountain would end! We got marked on our face with a blue streak after we finished our first lap. I ran right into the volunteer with a smile as big as my face to get the blue streak! Doing the race with my club mates was awesome; I was the middle pacer between the 2, our fastest person was also the best at the technical obstacles, and the slowest person was also a strong brute like myself. They helped hold my butt up from falling off the wall at Olympus and the Z-wall, and I helped them with the Sled Drag and Atlas Carry.
With the Sprint, there were 23 obstacles over 5K and the Super had 30 obstacles over 10K. There was definitely longer periods of running between obstacles. You really need to pace yourself during this race; I walked up most of the inclines but ran many times when I felt I could. It was nice to have more time inside my head. That quietness achieved with intense focus, and stamina to tell yourself to "keep going". I was surprised (yet again!) that I didn't hate one moment of it – it was exactly the challenge I was seeking! Except when my club mates both accidentally rolled the Atlas stone over their toes. Ouch! I was so stoked at how strong I was feeling, I did the men's Sandbag Carry, men's Bucket Carry and men's Sled Drag. I feel I could have done the men's Herc Hoist, too, but it came up so close to the finish line that I wasn't willing to risk it with more burpees. I tried the men's Tire Flip and Atlas Carry and couldn't do it though, I don't doubt that I could do it and will try it again! Strength is what I do well with.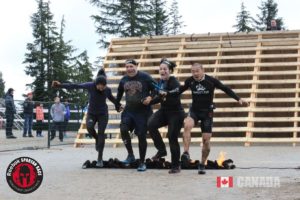 One of my favourite moments of the race came to us at the end; as we were climbing over the Slip Wall which was the second last obstacle before the Fire Jump at the finish line, one of our coaches came up behind us over the wall, and we all jumped across the fire to the finish line together! What an awesome surprise. He's an elite athlete who started the race in the last heat, since he was taking pictures along the course when we started.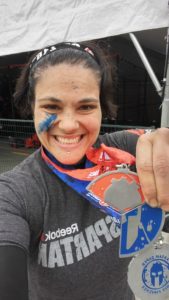 Having exceeded my own goals and expectations, now I am re-thinking my boundaries. I wasn't planning to go for my first Spartan Trifecta this year, but now am only one Beast race away from earning it! It feels surreal to even have that option available to me!! All it takes is for me to keep up with my training and decide that my brain is ready for it. I can do it.