5 Peaks Race 2 – Golden Ears – May 06, 2017
Feeling unimpressed with the technicality of the MEC trail races, I was on the hunt for something a little more challenging. I had heard about the 5 Peaks Trail racing series from a coworker last year, and he had nothing but good things to say about it. I consulted my race spreadsheet to see if the timing worked, and their second race looked like it was the only one I could do.
There were only 2 distances offered, the "sport course" which was 8.5K, and the "enduro course" which was 13K. Notice how the longer course is not merely twice the distance of the shorter course? Also, notice how they do not subscribe to the road racing convention of 5K/10K/21K/42K/50K+ ? I also thought that was damn cool (I applaud things that fly in the face of convention!) OH BUT THERE'S MORE. The sport course's elevation gain was 324m, and the enduro course's elevation gain was 550m. This only further solidified my decision to do the shorter course!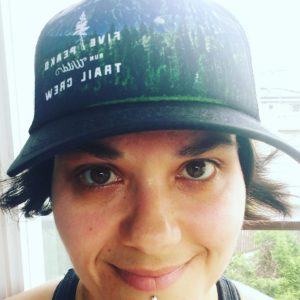 Also flying in the face of convention, one did not receive a finisher's shirt or medal, one received a trucker hat. I was not excited about this, at first. However on race day when I arrived on site, the hats had little stickers on them that said "technical trucker hat". Yes that's right folks, this hat is moisture-wicking! GENIUS. I am not entirely sure if the organizers are, in fact, geniuses. Perhaps they realized that if they were selling "season's passes" (a one-time entry fee to all 5 of their races in the series for this year), that maybe people would loathe receiving 5 different shirts (yep, I would). These geniuses are clever, too! Now I am falling in love with them more and more!! It's absolutely my favourite hat and I wear it on most of my runs, and even when at home!
I was excited to discover a few of my mates from my obstacle course race training club, Vancity OCR, had also signed up for the race. YAY!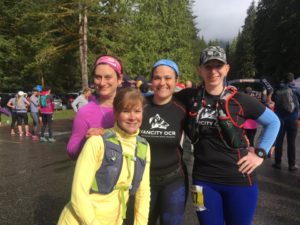 The excitement in the air was palpable. It was a nice morning where moments earlier, we were uncertain if we were going to be rained on. The poor volunteers setting up the race for us definitely got pummeled by the elements! Once the runners had arrived and were getting psyched up, the sun was out and the temperature was cool but not too cold or too hot. Perfect race day weather! Everyone that was there was happy and excited and while there were a fair amount of people, it never felt crowded or overwhelming. There were a little over 500 people, so it felt intimate.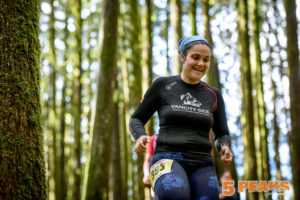 The course was AWESOME. It was exactly the right amount of technical I was looking for; it had diverse terrain changes, there were at least 7 streams up to our knees that we had to cross, there was only one seriously steep uphill climb (which I walked up), the downhill bits were super fun and chaotic (no idea how people could pass me that fast and not fall on their face! I trusted my trail runners but I needed to land on the trail itself!), there was dirt, mud, rocks, trees, sun, twisty bits. I would even say it was one of the most fun races of the year. I liked it so much that I was sad I could not do any of the other races from the 5 Peaks series. I was satisfied with my time of 1:19:28, it was exactly the length of time I was prepared to finish in. I finished the race energetic and happy.
My only one teeny complaint is we all got an email ahead of time warning us that the finish line was back up a tiny little hill into the parking lot. It wasn't that the tiny little hill felt difficult (it did) but it was more that the trail ended and we had to run the last 200m on pavement. My legs screamed "oh god, nooooo!" and I jutted onto the grass so that my tired legs could have some relief. There were a bunch of small children standing on the edge of the grass cheering at us "you can do it!" and giving us high-fives. That was all the motivation I needed to pass them on the pavement and haul ass up to the finish line! I realize the course design required the finish line to be where it was, but psychologically and physically, it felt jarring. Crossing the finish line was great, and seeing all of my club mates enthusiastically enjoy the race as much as I did, was pretty sweet. Obstacle course racing is still my #1 priority, but I could nestle myself into the trail racing community if the other organizations' races were anywhere near as awesome as my 5 Peaks experience was. I would love to be able to run the rest of the race series and even try my hand at some of the ones in other Canadian provinces!