MEC Trail Race 2 – Mundy Park 5K – Apr 02, 2017
This was an interesting race. I convinced a couple of my friends to join me, one from my training club Vancity OCR (who is really awesome at encouraging me), and one of my friends that I had been doing lots of trail running with on the weekends (who is super fast and doesn't care about keeping my pace during our training runs).
Part of the park was undergoing construction, so the course had to start in the parking lot and head out. The other thing that was interesting is that most of the course was gravel; almost exactly the same terrain as the third MEC Road Race, that was in Pacific Spirit Park. Either way, Mundy Park in Coquitlam was pretty and the terrain didn't have many steep climbs.
The race felt really hard and slow for me, but I took my time at the beginning not to go too quickly and tire out. Unfortunately, I couldn't really speed up after I warmed up into it. It didn't help that I had an insulin pod failure just past the 4K mark. Since I was almost finished, I decided against stopping on the side of the trail to stop the alarm. I just ran the last stretch super angry and ran right past my friends to the car. I had to pull down my pants and yank the pod off of me and use a pin to break the circuit board to stop the alarm. Yeah, really. This thing is meant for independence, and yet I have never been such a slave to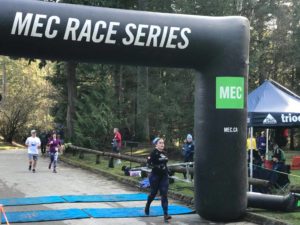 technology like this as a person living with diabetes, ever.
It wasn't my best performance, but I needed to keep racing so that I would keep running. In that sense, the race accomplished its goal.